Casino Games
Although our equipment is portable, it is the highest quality available, often times better than you'll find in Vegas casinos!! Our Craps tables are custom made mahogany tables, the Roulette table includes a padded rail and an oversized 24" mahogany wheel, and the Blackjack tables are regulation size with padded armrests and drinkholders. We are truly a first class operation catering to first class events.
Click the the games below for more information about each game.
Craps Table
The Craps tables are often the most exciting game at casino parties.

Our full sized Craps tables are custom made mahogoany tables, are 13 feet long, are staffed by two dealers, and can accommodate up to 20 players.

The Craps tables have a drink rail around the outer edge and a chip rail on top to keep your hands free during play.

A true Vegas experience starts with authentic casino equipment.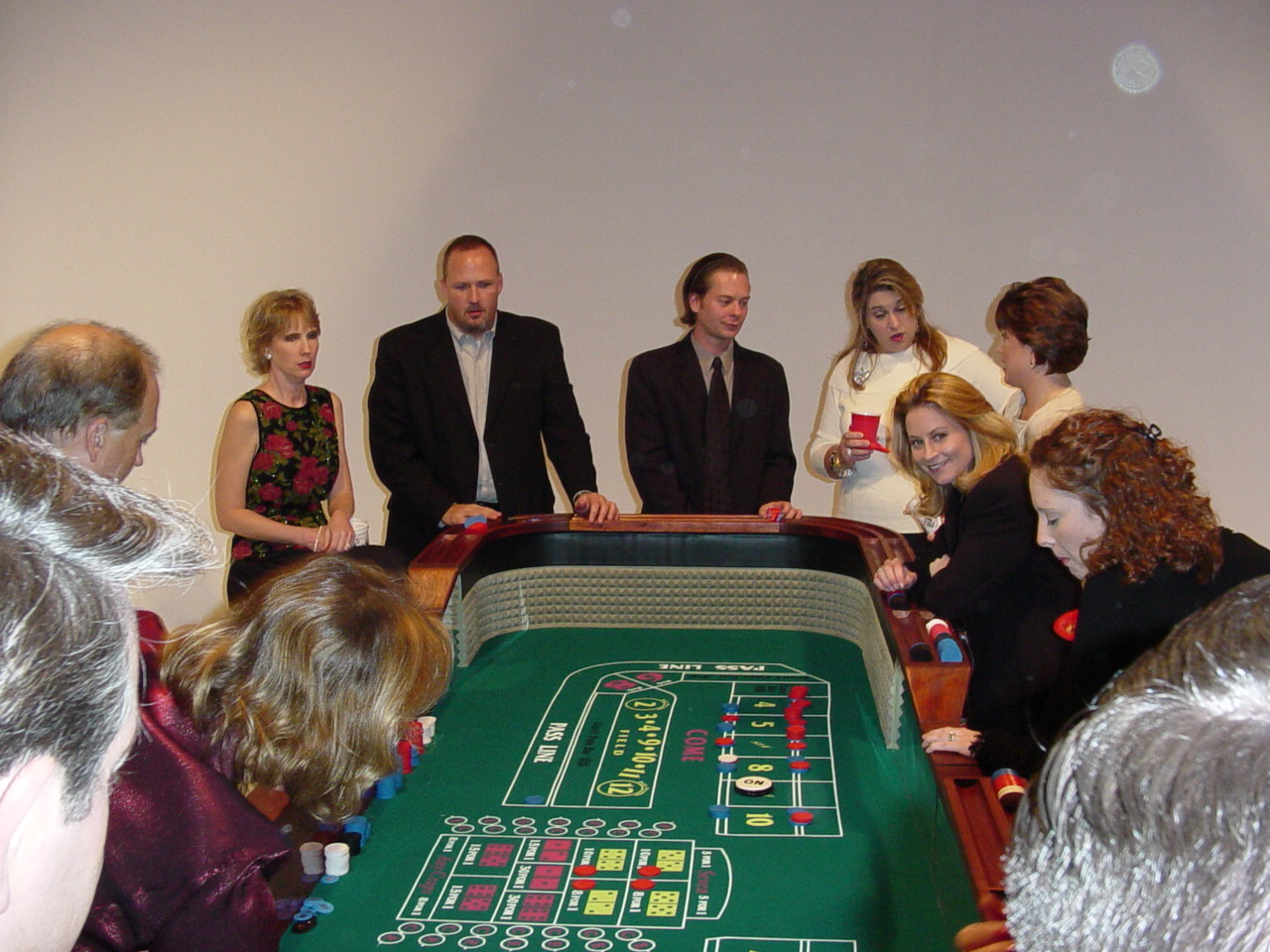 Club Craps Table
We also have a Club Craps table available.

The club craps table is 7 feet long and handles up to 12 simultaneous players. The compact, single-dealer layout doesn't leave anything out, it includes all of the regular bets.

The Craps tables have a drink rail around the outer edge and a chip rail on top to keep your hands free during play.

This is a great option when space is limited.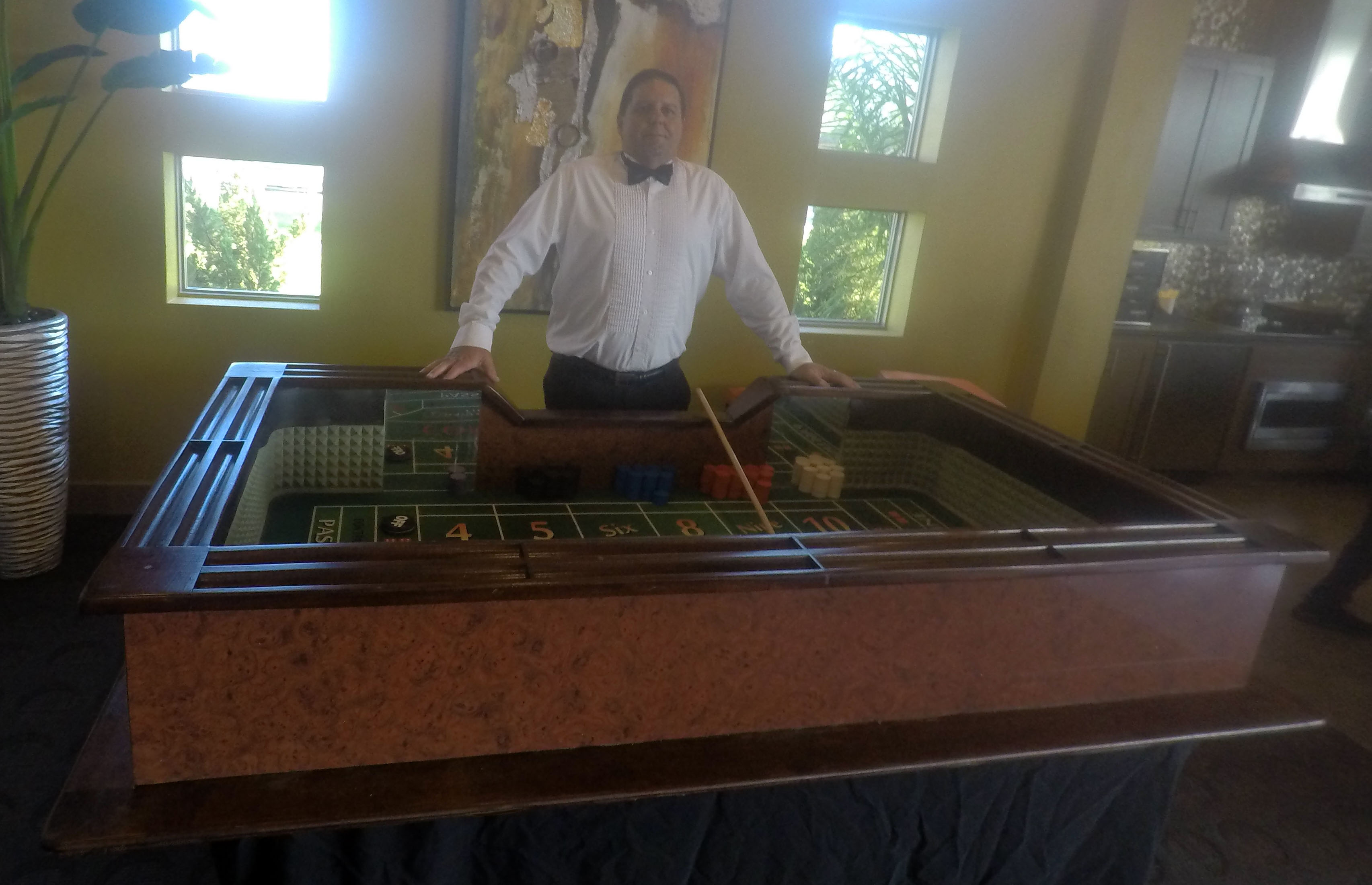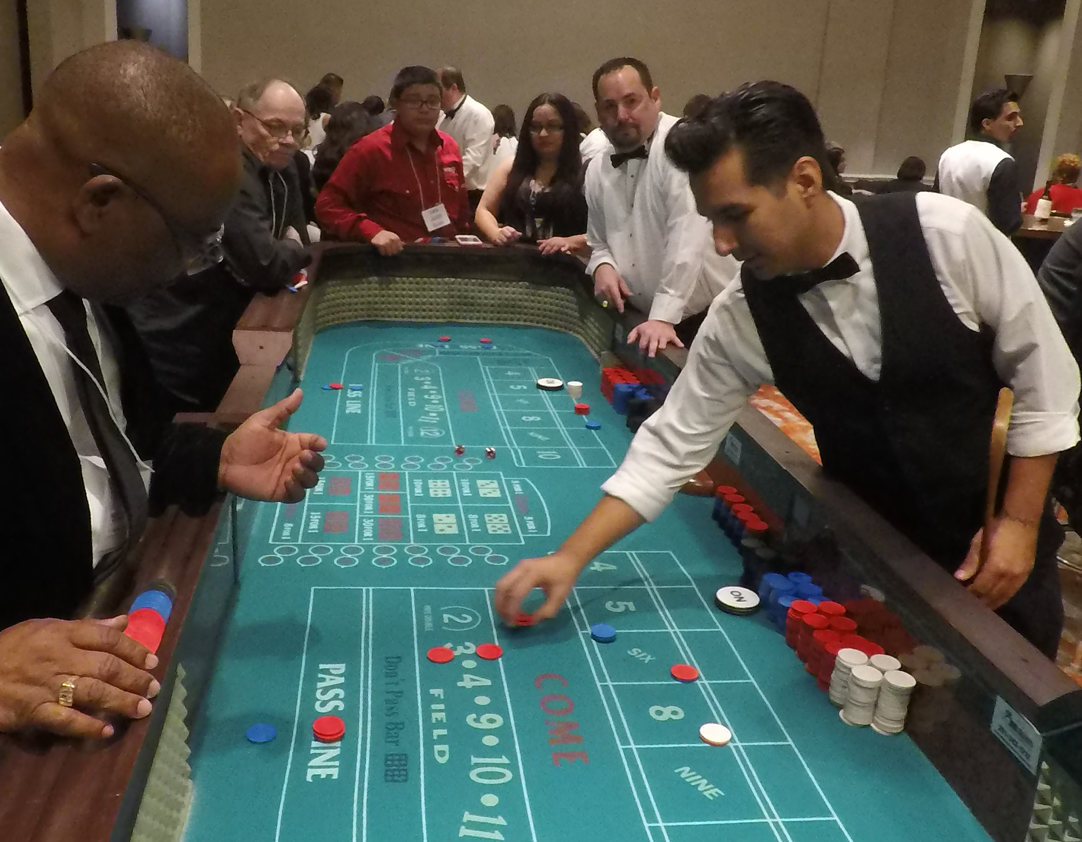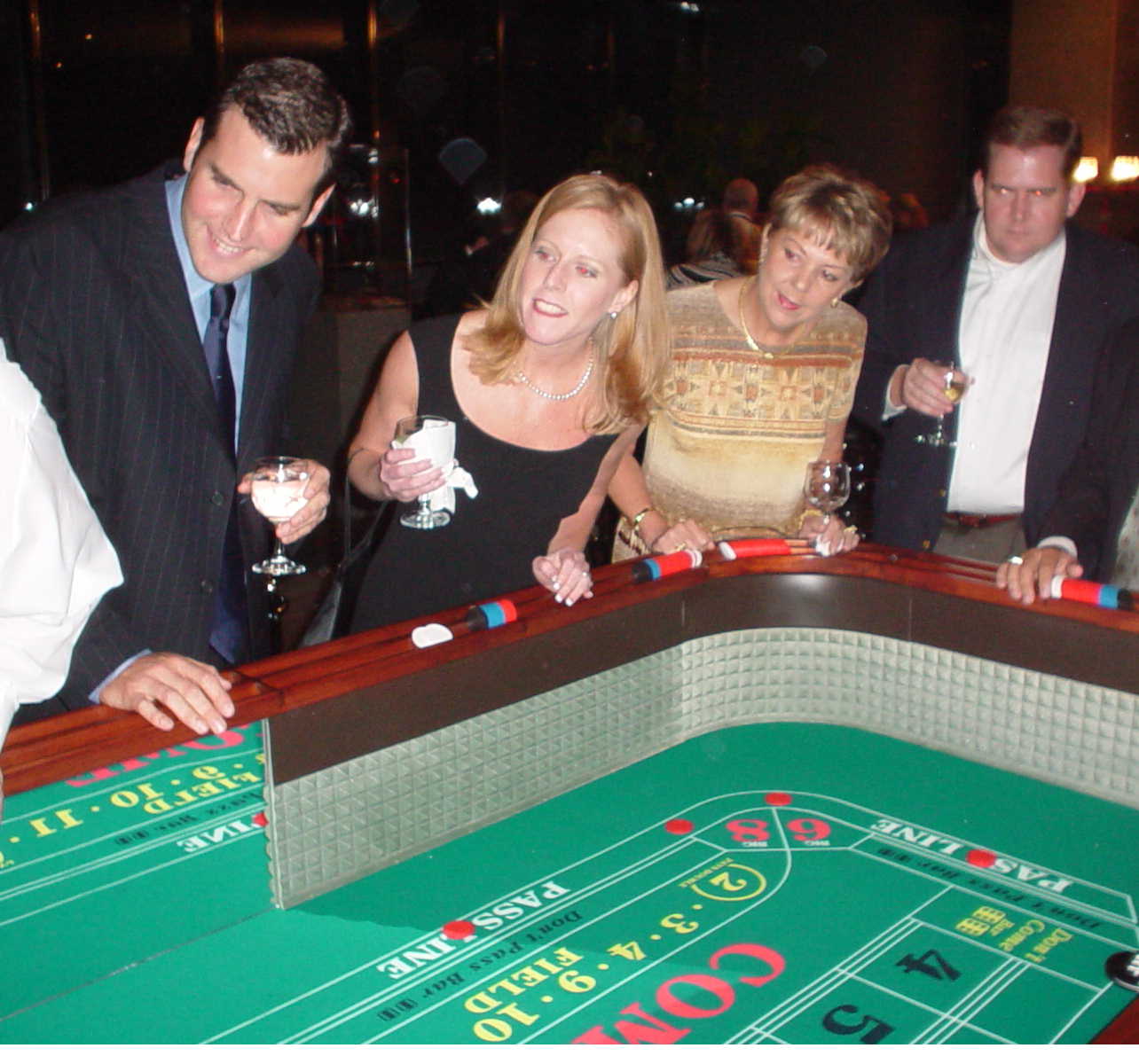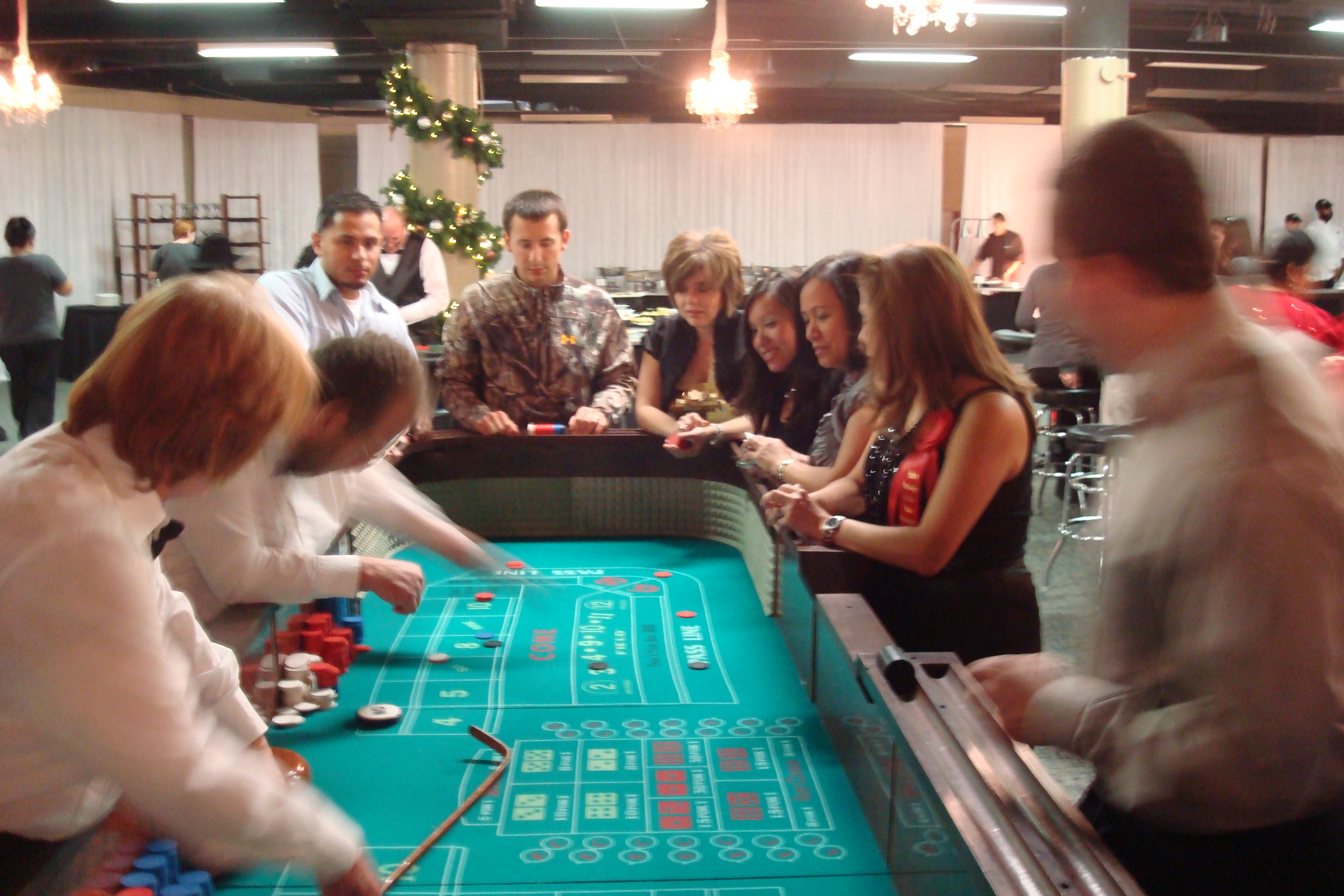 >
<
Craps Basics
Craps is a dice game in which there are any ways to win. The person who throws the dice is known as the shooter. The most commonly played bet is a "pass line bet" which is placed immediately in front of the shooter and each bettor. The pass line bet is a bet on the shooter to win. The shooter begins the game by throwing two dice to the far end of the Craps table.

The first roll is known as the "come out" roll. The shooter wins if the come out roll is a 7 or 11. The shooter loses if they "crap out" by rolling a 2, 3, or 12. If a 4, 5, 6, 8, 9, or 10 is rolled, that number becomes the "point." The shooter wins the game by making their point. This is accomplished by rolling the point a second time before rolling a 7. The shooter loses if a 7 is rolled before the point is made.

Other bets include place bets (betting that a particular number will roll before a 7), field bets (one roll bet that covers 7 numbers), a "hard way" bet (a bet that a particular even number will come up a with each die showing half of the number's total. e.g., a bet on a hard 8 wins if each die shows a 4), and more.